When it comes to Hotel Management Softwares, we usually think of on-premise property management systems (PMSs), that are complex, expensive and complicated. Big hotel brands made use of them, and, at the time, it was a great help for a selective ensemble of hotels, who also could own servers, an IT expertise team and various arrangements.
Technological evolution enabled small and mid-sized accommodation facilities to benefit of hotel management softwares, usually cloud-based, that are user friendly, and most importantly, budget friendly. Therefor, there are 2 types of hotel management softwares that an independent property could use for organizing, analyzing, booking and so on.
A. Free Hotel Management Softwares
Free Management Softwares are leaded by the idea of hospitality. They can do some of the daily tasks, like cash or credit card payments and tax reports, so the clients could operate more easily with the necessary affairs when they book an accommodation facility.
An example would be Abacre Cloud Hotel Management Software:

The interfaces of free hotel management softwares are poorly created, but not to be blamed, they are designed to be a help for the hotels that are concerned by customer's satisfaction. They can be a help for the accommodation facility's owner, but it's not a significant improvement in administration.
Although, if you are looking for expanding your features, to optimize your client's convenience, without any investments, we recommend you use one of the softwares below:
1. ASI FrontDesk Freeware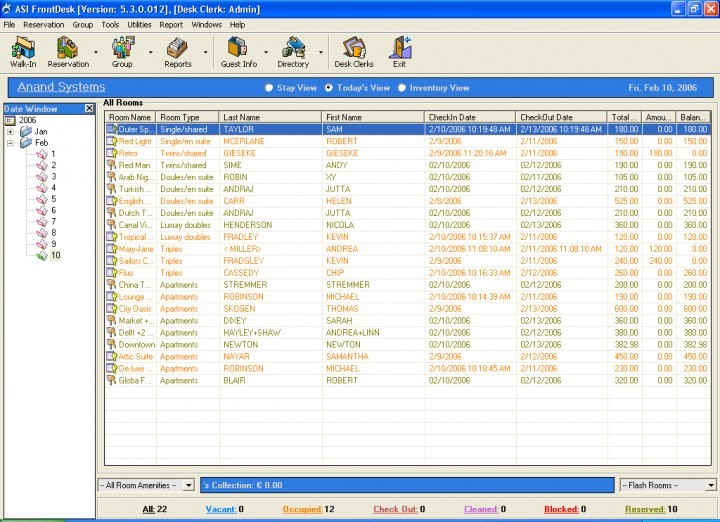 • Cons: Only available for hotels and motels of ten rooms or less
2. KWHotel Free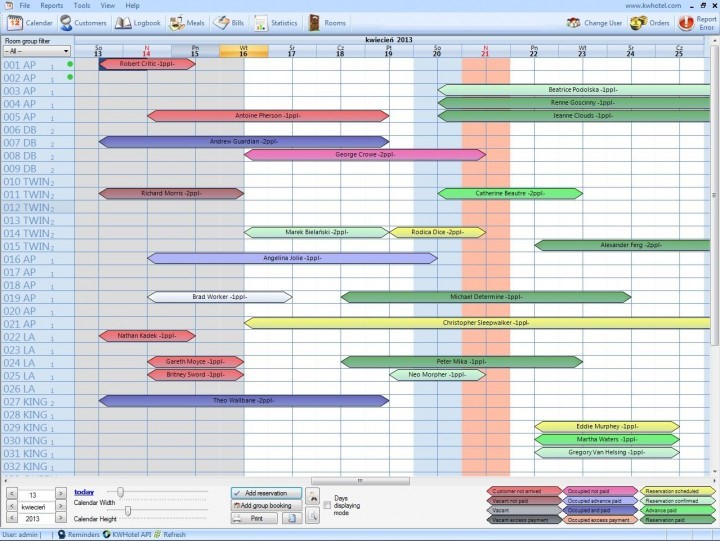 Cons:
• Multitude of options may be overwhelming
• Clunky user interface
3. HotelDruid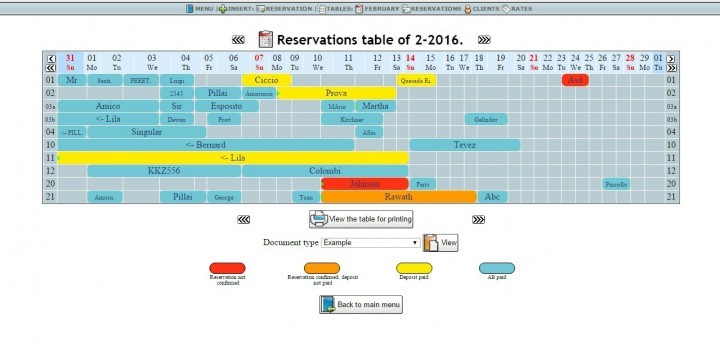 Cons: Paid versions offers more advanced features:
• Group reservations
• Meal management and reports for kitchen staff
• Customizable calendar
• Work on multiple computers simultaneously
4. OTA Hotel Management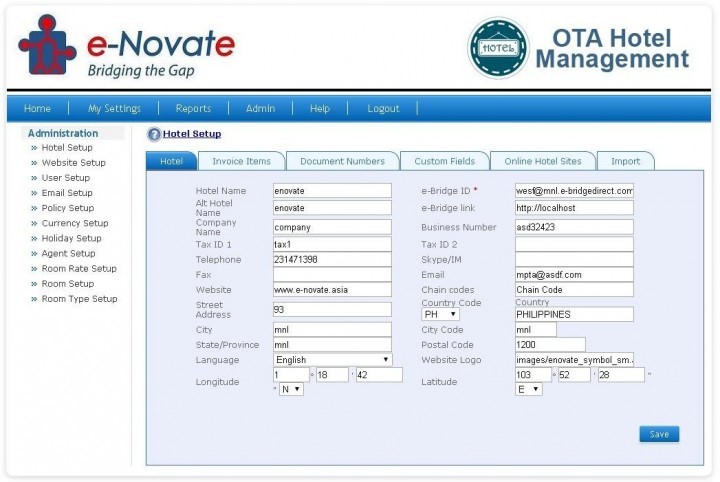 • Cons: No secured login page
• No password encryption
B. Cheap Hotel Management Softwares:
Cheap Hotel Management Softwares, instead, are fully featured and can achieve complex tasks to be a great help for the owner, the manager or/and the receptionist. They can get very similar, regarding the functions, to the expensive softwares, like Opera or LittleHotelier. They are meticulously developed and easy to use. The reason they have lower prices is usually the unpopular brand, and has nothing to do with functionality.
5.HoteloPro
HoteloPro is one of the most user-friendly hotel management softwares. It takes about 10 minutes to set up, you get used to it easily and amongst the most important advantages of this software are:
• Administration of all the operations in a single place;
• Direct system invoice;
• Rapports and analysis;
• Automatic synchronization of the reservation from Facebook, Booking, your website and other tourism agencies;
• Efficiency for growth and productivity increase;
• Use of a single calendar for all sources of your reservations;
• High security of you database;
• Automatic confirmation E-mail, check-in and gratitude for your clients;
• Direct access to the software on any device;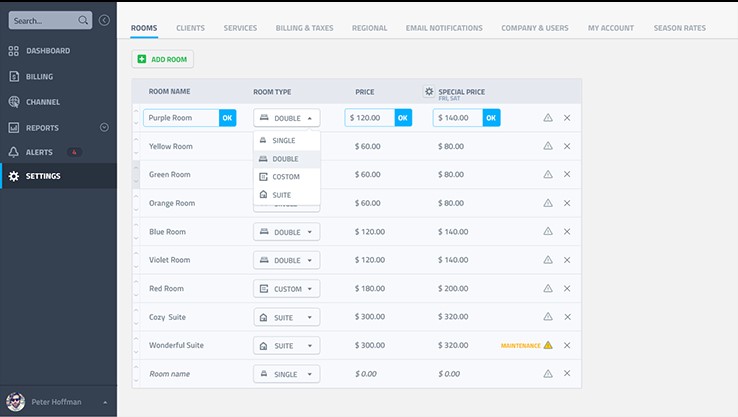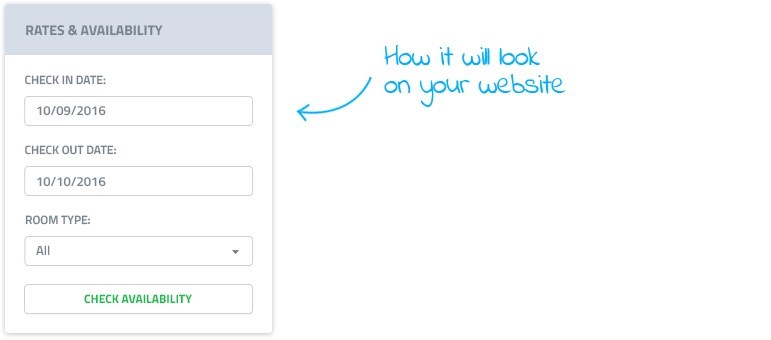 WebRezPro
It is similar to HoteloPro and costs just the same: 5$/room/month. Most of the softwares charge the hotels by the number of the rooms. Also, the Synchronization with Booking cost 3$, therefor, you will usually see an extra charge for that feature, but it is definitely worth it.
Some of the other softwares have different prices for 1-5/ 5-10/ 10-21/ 21-50/ 51-100 rooms (Sirvoy), so depending on the number of your accommodation facility, you will find cheaper or more expensive one software, than the other.