A good rule of thumb for good marketing is to be where your prospects are and most likely they are on Facebook. As of the second quarter of 2016, Facebook had 1.71 billion monthly active users, so if you haven't already created a Facebook page for your hotel or B&B, don't waste time and create it now.
Once you've uploaded your hotel's logo as profile photo and an amazing picture as a cover photo, another thing that's essential is to add a call-to-action button (Book Now or Call Now button), so people can check room availability right from Facebook. Here's an example of great imagery from St. Regis Bora Bora.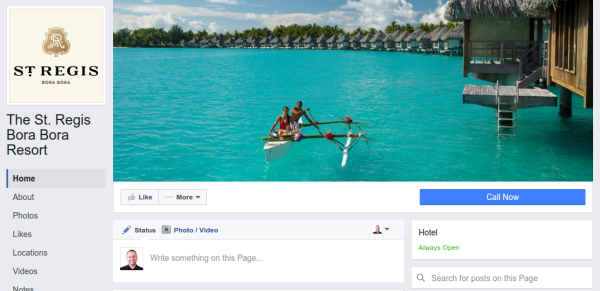 If you've done this, you're now ready to add content to your Facebook page, so let's see what this can be.

1. Add photos of your property
According to Wishpond, if your posts include an image you're going to have 180% more engagement than without photos. So try to include images in almost all of your posts.
So, take as many photos as you can of your property, the rooms and the surroundings. You can create an album for this, so people can locate them easily while accesing the Photos tab on your page. You can see an example how Hilltop Manor Bed & Breakfast created an album for their Rose suite.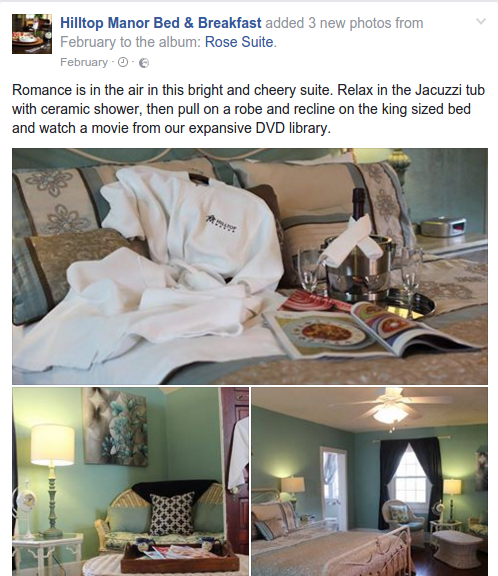 2. Add photos of your guests
When your guests are having a great time, ask them if you can take photos with them. Once you tag them on Facebook your hotel will be seen by all of their friends, and you'll naturally get a boost in views. Similarly you can also share photos taken by your customers. Here's an example from Lookout Point Lakeside Inn tagging Jason and Holly, a couple that just got engaged.

3. Add photos from actions you're involved in
There's a lot of things going on in your community, so be present and post photos with what's going on. People from your community will naturally like or share content that is relevant to them. Here's an example from The Westin Dragonara Resort team who got involved in a cleanup event.
4. Share inspirational images
Choose to spread positive images and inspire your current and potential clients. Here's an example from Edgewater Hotel Gatlinburg.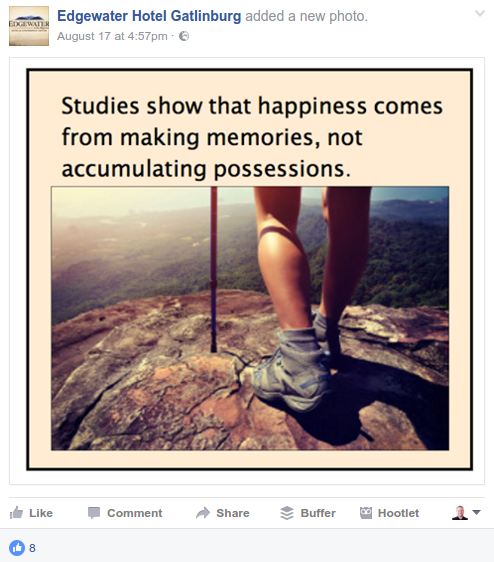 5. Post offers and exclusive deals for page fans
Add a special offer for a 2 nights stay, for a specific room, for a specific period or just about anything your potential clients might find attractive. Here's and example from Hilltop Manor Bed & Breakfast. Extra tip: you can create beautiful images using Canva, a free tool for easy design.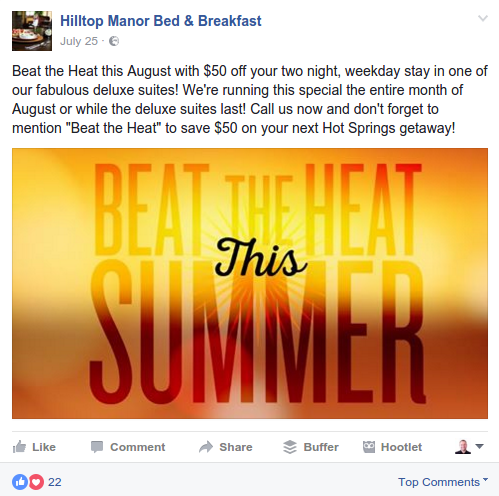 6. Promote new menus or daily/weekly specials
Whether is a special offer, or just something from your menu, you can create amazing posts using photos of things from your menu. Here's an example from Farmers Guest House.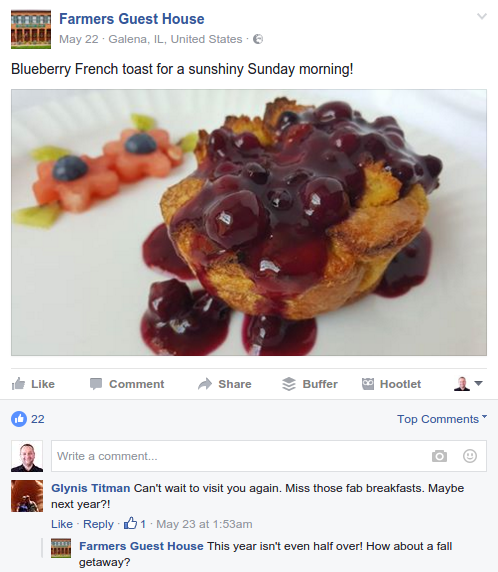 7. Post information on area attractions
Are you an adrenaline junkie? This post from The Inn at Westwynd Farm might draw you in to HersheyPark. Announcing the first Choose-Your-Thrill Triple Tower in the United States: Hershey Triple Tower!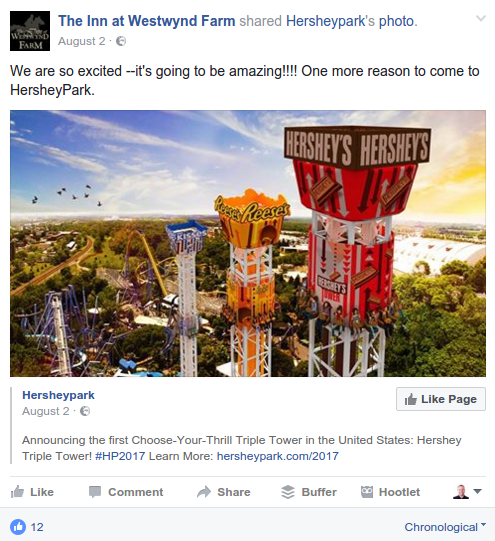 Are you an art lover? Then you might want to check out The Farnsworth Art Museum in Maine, not very far from Topside Inn.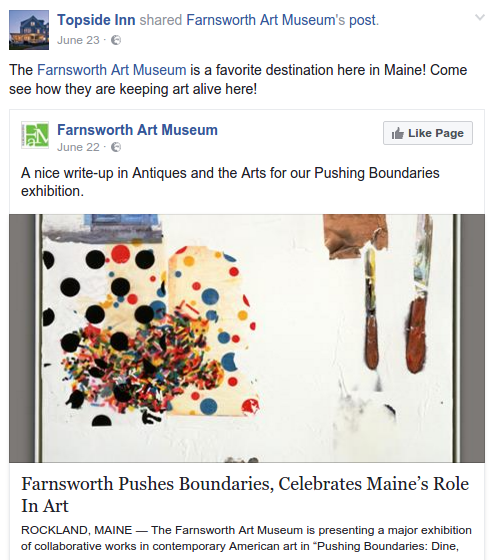 8. Recommend good dining options nearby
You know which are the best choices around your location, so help your guests enjoy the best options. Care for a lobster? Inn at Harbor Hill Marina B&B has a recommendation.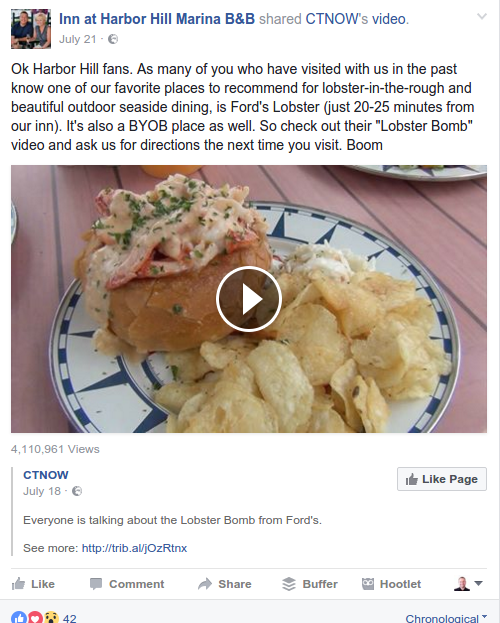 9. Share events that are going on in your city
You know your area the best, so make it easy for your guests to know what they can do once they arrive at your inn. Here's an example from The Inn at Westwynd Farm, sharing a blogpost with 10 things people can do in Hershey in June. Hey, there's even Beyonce coming!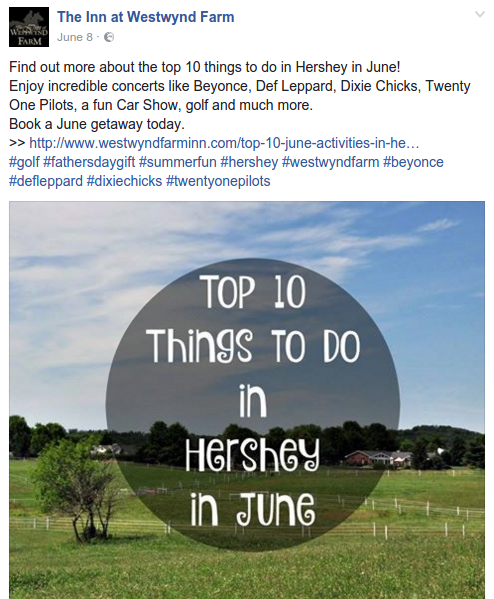 10. Share news about your employees
It's always nice for potential guests to get to know the staff before arriving, so your Facebook page is also a great spot to share what's going on in your team, someone just joined the team or someone just got promoted. Here's Lookout Point Lakeside Inn congratulating Tricia on her promotion to Manager from Lead Innkeeper.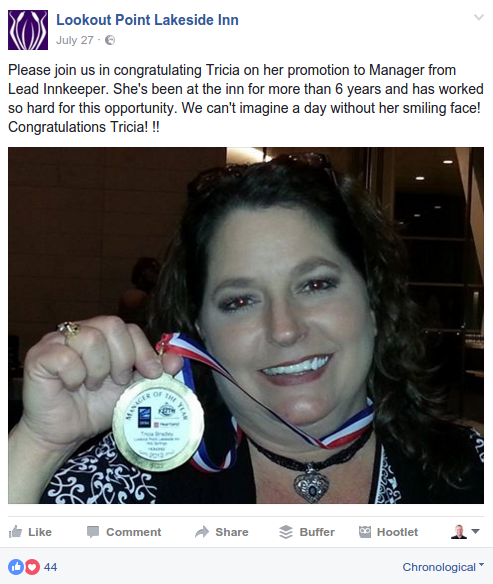 11. Post Videos
You can post videos of just about anything: the rooms, the areas that surround your hotel, take interviews with guests or staff, special events, showcase your products etc. This can be simple videos done with your iPhone or more advanced productions. Here are some examples from HotelIrvine.
12. Share a blogpost
Sometimes you'd want to get into more detail with a subject, so you write a blogpost but simply adding it on your blog doesn't cut it. Facebook is the best place to share your blogposts. Here's The Inn at Westwynd Farm sharing a blogpost about a customer review.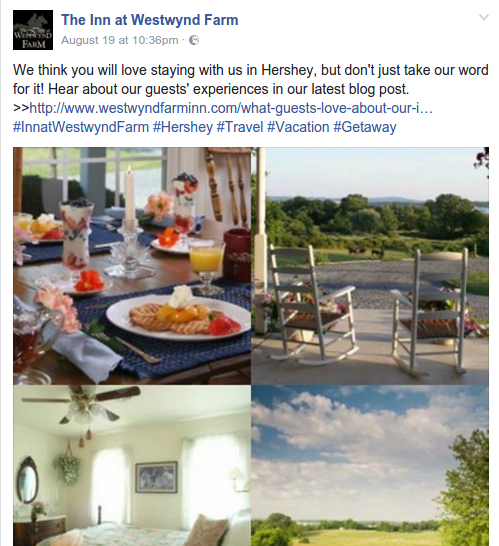 13. Share when you are mentioned in the press
Good mentions in the press are building trust, here's how A G Thomson House Bed & Breakfast sharing a news article about them landing on the first spot in Top 25 B&Bs and Inns — United States, Tripadvisor.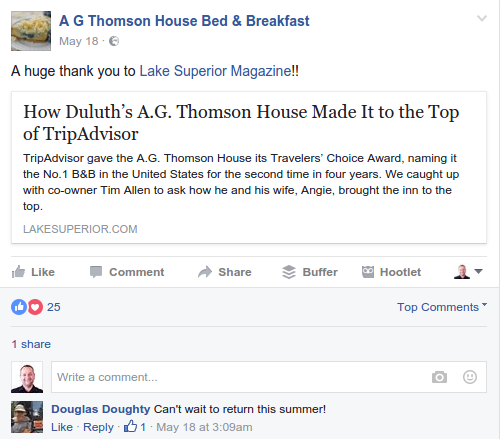 14. Post any award you get
Welsh Hills Inn – Granville, OH is no.3 in Top 25 B&Bs and Inns — United States, and the owners wanted to show this clearly to anyone visiting their Facebook page, so the award is put front and center as profile photo.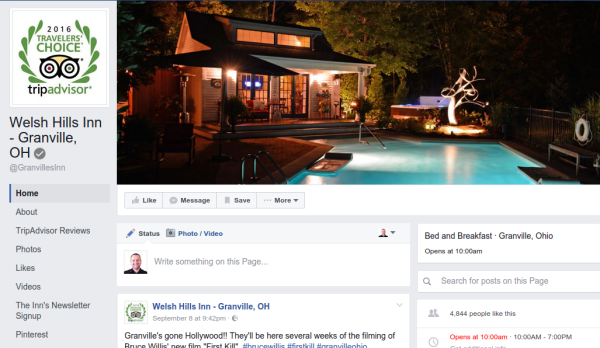 15. Share when something exciting is taking place
A movie is being filmed at your location? You bet it should be on Facebook. Are there sharks involved? Even better. Inn at Harbor Hill Marina B&B shared about the Hunter's Cove movie being filmed at their location too.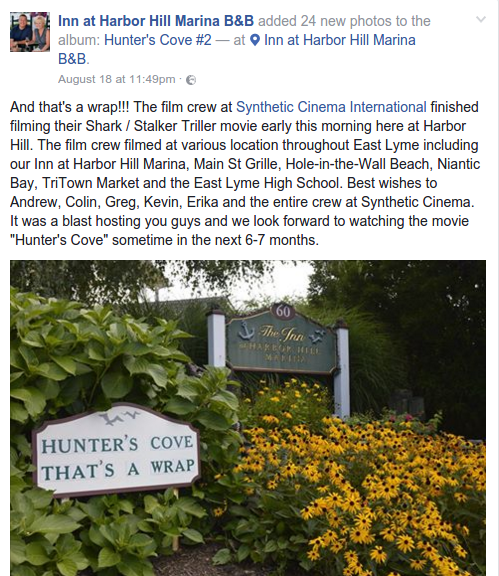 16. Share a food or cocktail recipe
Who doesn't love food? Give people a preview of what they are in for, and even share the recipe with them. Here's an example from Lookout Point Lakeside Inn.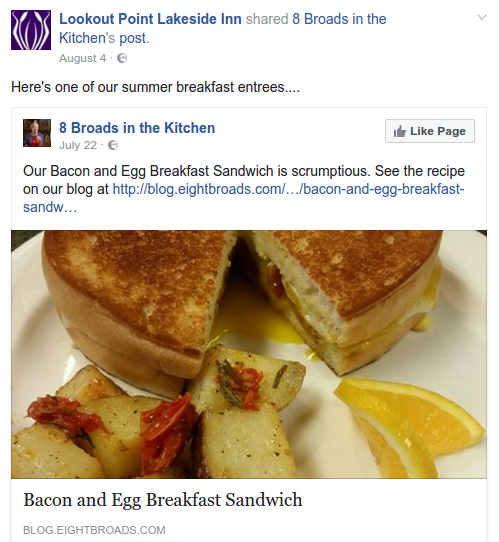 17. Post a weather status
People are caught up in the weekly routine, so a weather status update from a vacation destination might be just what they need to start prepare a weekend getaway.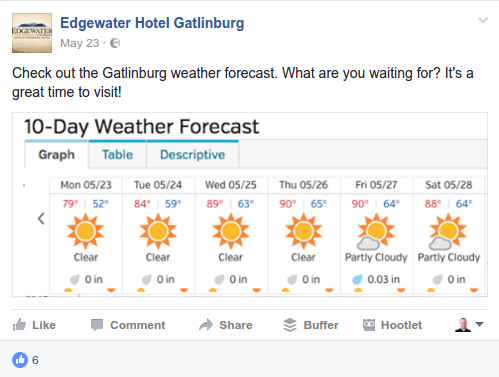 18. Share positive reviews from past guests 
The best people to promote your unit are your clients, it builds trust and it has a different tone than when you're doing it.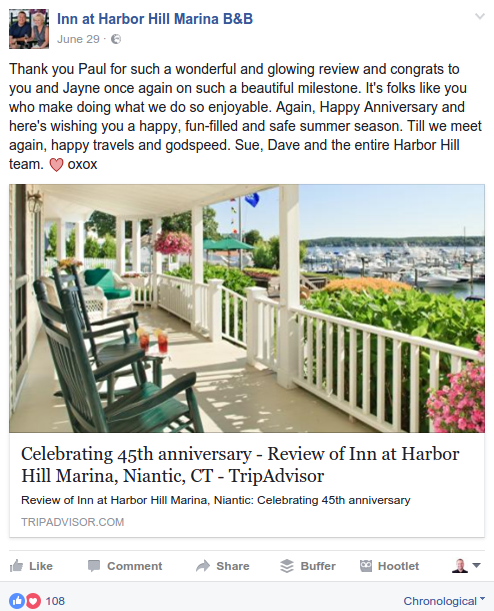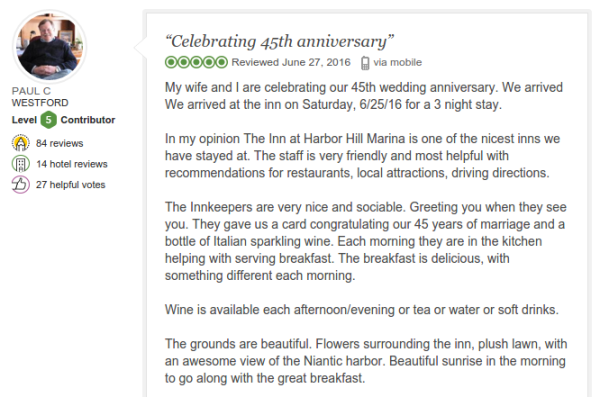 19. Create an event
How does a movie night sound? What about a wine tasting evening? Hotel Irvine loves action hero movies.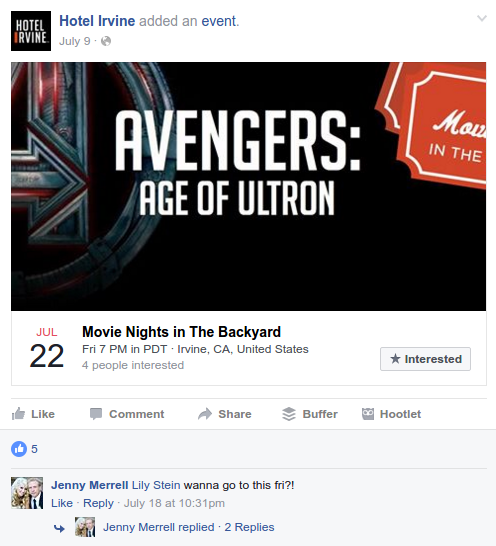 20. Organize a contest
You can do all kinds of contests, here's one example Cedar Crest Lodge who did a photo contest giving a $50 gift certificate to the person that shared the most beautiful picture took at the lodge.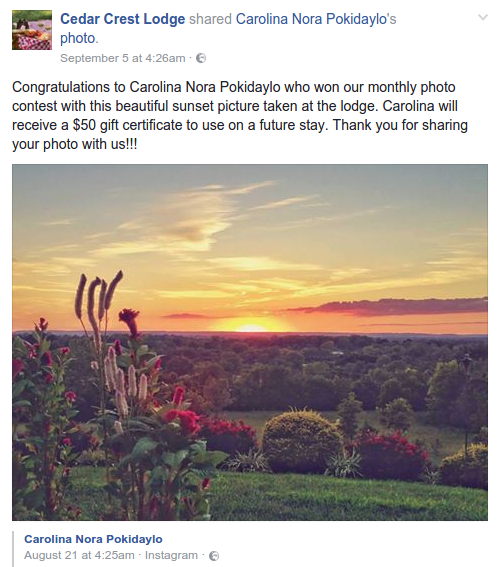 21. Ask questions
Questions are great for post engagement, you can either ask people to share recommendations or simply to discover more about them. Here's a great way from Edgewater Hotel Gatlinburg to tell people where's the best place in town to eat ice cream.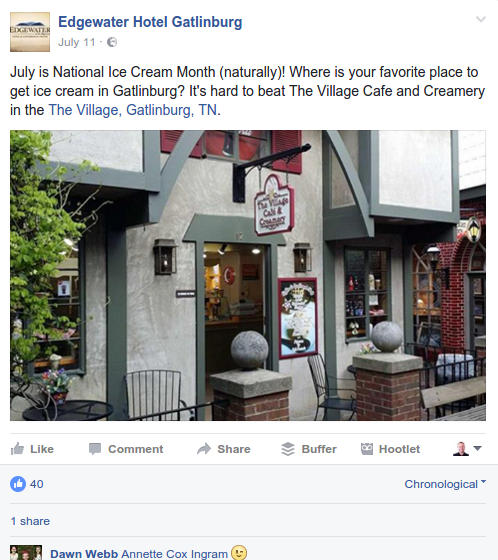 22. Share funny stuff
You have so many options here, just let your creativity flow. I like this example from Welsh Hills Inn – Granville, OH featuring the Inn's pet.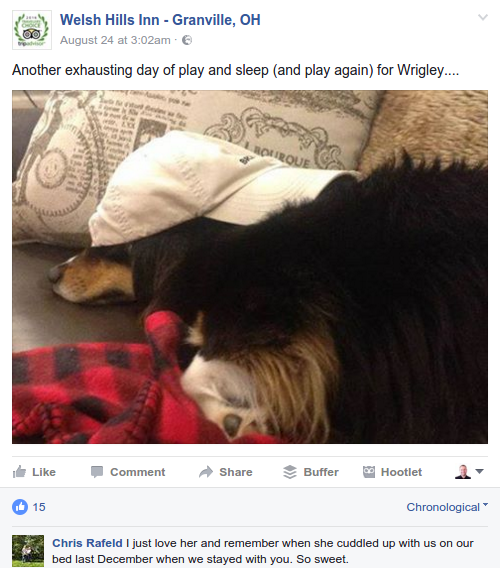 23. Post regular stuff going on
Did a guest catch a fish? Here's a reason to celebrate at Welsh Hills Inn – Granville, OH.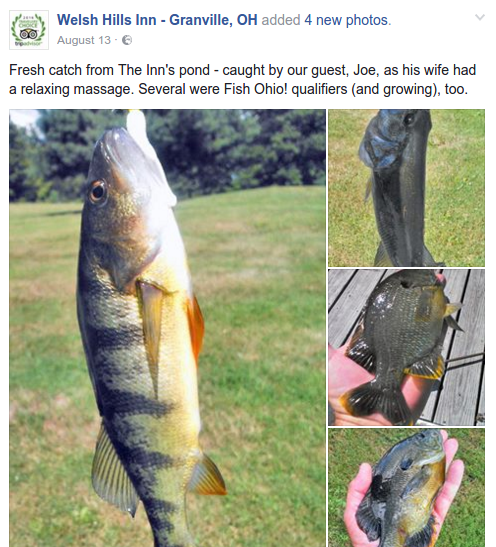 24. Capture the beauty of nature
From flowers, the sunrise, the sunset, the water, the lawn, you've got many to catch on camera. Check out this incredible sunrise from The Inn at Pleasant Lake.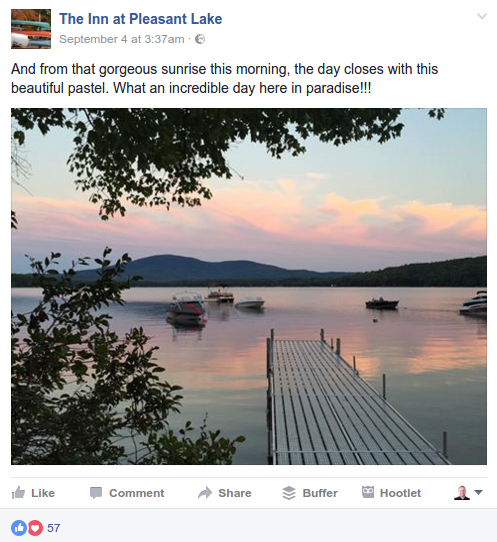 Or do you prefer a view from above? Here it is.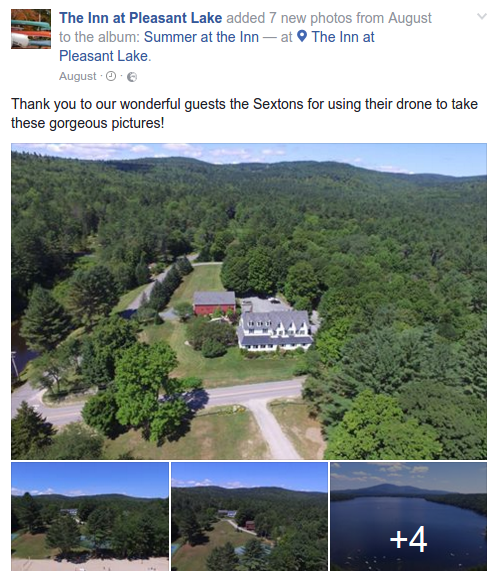 25. Share something personal
B&B and small hotels guests are expecting to know the owner of the place, so it's also nice to share photos of yourself, being just you. Meet the owners of The Canyon Wren Cabins.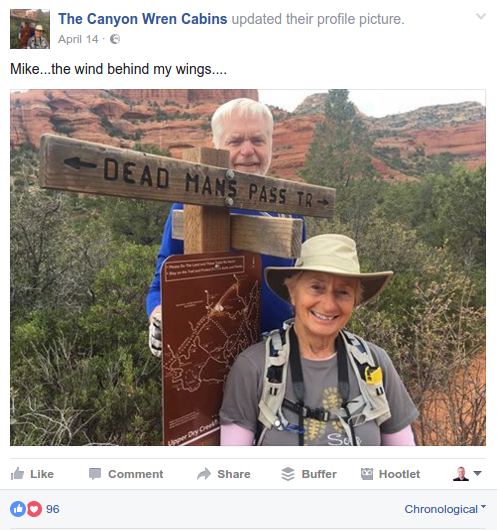 I hope you'll get a dose of inspiration from the above tips and please do share with us what's working best for you on Facebook.